Many thanks to Larissa Holland, the Etsy shop owner of
 mmmcrafts, for participating in an exclusive little interview for us! 
How did you come up with your business/shop name
…
►
Mmm…crafts. The same way that Homer Simpson feels about doughnuts.
Can you share a little background about your logo…
►
I designed my logo. When I started my blog I thought, what do I like besides makin' stuff? Coffee. My logotype has gotten a font update in the last couple of years, but my coffee cups have always stayed basically the same, just different colors. Because I feel as passionately about hot beverages as I do about crafts.
Please tell us about your shop and the items you sell…
►
My shop is full of PDF sewing patterns for gifts and toys, and very occasionally I list actual handmade items. I love to design and make items (usually as a gift for a loved one). Afterward I often develop the design into a sewing pattern so that others can make it too if they like, without having to go through any mistakes or guesswork. I really enjoy the process of pattern writing and illustrating, and I fortunately I get a lot of great feedback from makers who use them.
Do you have a "top seller" or personal favorite item?
► 
My top seller is far and away the Wee Mouse Tin House pattern. I've always loved mini anything, and I'm a devoted Altoids eater, so the idea of a tiny mouse in an Altoids tin with an even tinier teddy bear seemed so charming and a great way to re-use the tins. I made the original Wee Mouse for a little boy I love, Asher. I had several ask for a pattern so I put one together and had no idea it would be such a hit. It's really fun to think of Wee Mouses coming to life all around the world.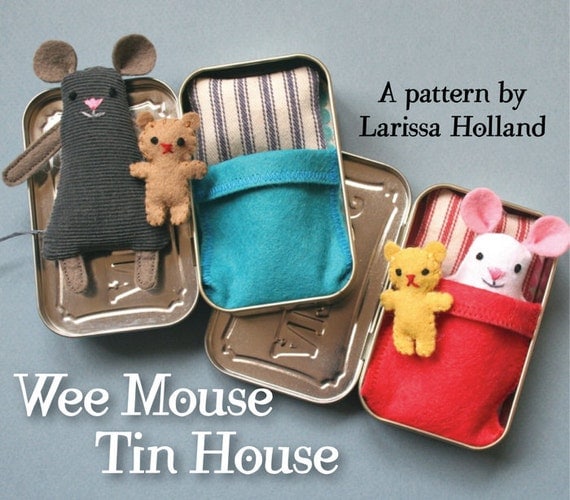 Where
 can we find yo

ur work?
Where do you get your inspiration? 
►
I draw all kinds of ideas from my two funny daughters and what they like to play with. Often they'll just come and request something in particular and of course I try to oblige! Childrens books and classic fairy tales are a great inspiration too. The beautiful world God made is an endless source of fascination. I'm so drawn to animals, flowers, trees and leaves. And of course I'm a devoted blog/pinterest gawker.
What are your favorites books and/or blogs?
►
Oh, books, books and more books. Sigh. I love to read books. Mostly I lose myself in fiction during the stolen chunks of time I get to read for pleasure. I'm a novel reader. Anything from Dickens to the latest YA titles. Waaaay too many to single a few out. Vintage craft books are another favorite. And blogs. Oh my word. My friend Robyn introduced me to the world of craft bloggers in 2006 and man was THAT a revelation. I had no idea. I went from waiting impatiently every month for my issue of Living to spending a LOT of time every day looking at craft blogs packed with beautiful photos and reading funny stories of real people making all kinds of things and sewing and freely sharing their techniques. It inspired me to start my own blog, which eventually lead to my pattern business. 
►
 Coffee. And cream. And sugar. And some kind of cup, obviously.
►
The word ombre. I have ombre fatigue. It's a condition.
►
My time management skills need a lot of work. Actually you wouldn't have to guess about that if you are a regular reader of my blog. But despite this handicap I do manage to get quite a lot done. I work well under pressure.
Do you have advice for other Etsy shop owners? 
►
Absolutely none. LOL. I have so much to learn. You'd do much better to ask someone who actually knows what they are doing. I've enjoyed success with my shop but I feel like I stumbled into it kind of blindly. I'm terrible at thinking of business plans and making goals. OK, one piece of advice, do join a forum that focuses on the things you make/sell. I have gleaned a lot of valuable information from my peers in softie/toy design and hopefully I've been able to give back by helping others who had specific questions. Oh, and one more: start a blog.
Other Etsy shops you love…
►
So many. But one that comes to mind is Willam & Sally. It's run by a dear friend with such a giving heart who sells adorable accessories for babies and children — and 100% of her profits go to help others adopt children. 
www.etsy.com/shop/williamandsally
Please join us in thanking this amazing Etsy shop owner for taking the time to partici

pate in

our spotlight interview

! 
Visit mmmcrafts now!